The COVID-19 pandemic is the biggest public health crisis that the UK has faced in modern times. Since March, strict social distancing measures have kept most of the population in lockdown and the vast majority of public and private buildings closed to help slow the spread of the virus as well as ease the strain on the NHS.
It's important to remember, however, that life hasn't stopped for everyone. Millions of keyworkers in hospitals, supermarkets, utilities, public transport and other essential services continue to put themselves at risk every day. Meanwhile, facilities management and cleaning teams play a crucial role as the frontline defence against COVID-19. Cleaners have worked around the clock to ensure that buildings remain clean and hygienic and keep the risk of transmission low.
Electrostatics technology
Coronavirus is deadly, so the methods and equipment that cleaners use have to be extremely effective. Chequers has equipped its cleaning teams with new electrostatics technology and personal protective equipment (PPE). These steps have delivered excellent results for customers in high-risk customer environments, such as social housing provider One Housing.
Chequers and One Housing formed joint venture Renovo Facilities and Services in 2016. The organisation has developed a handyperson service, property void refurbishments, a full range of building compliance, and two British Institute of Cleaning Science training centres. The solid partnership that underpins Renovo, including a joint commitment to social purpose, allowed the organisation to implement an effective COVID-19 plan quickly and introduce the innovative cleaning technology.
Electrostatics is the process of adding an electric charge to the liquid droplets of cleaning solution when it is sprayed. This technique gives the droplets an electric charge stronger than that of the surface or item the cleaner is treating. Just like magnets, the droplets and particles on the surface are drawn to each other and attach when one surface has a stronger charge than the other.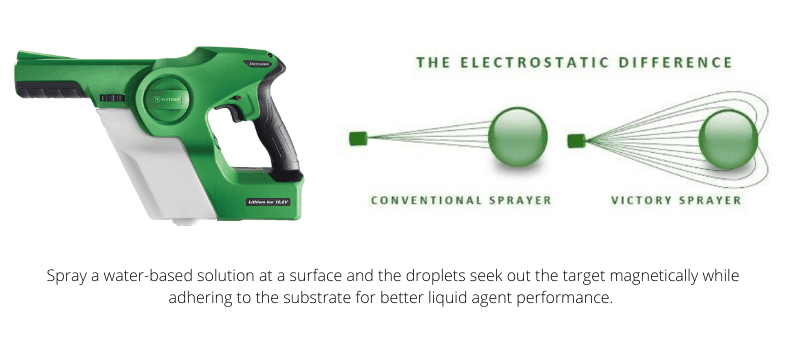 Better surface management
However, electrostatics technology is just one important element of killing viruses like COVID-19 on surfaces. An effective system should also consider where these liquids will be used and who is applying them.
Our electrostatic disinfection sprayers are lightweight, cordless and provide up to four hours of spraying after just one charge. They work with all water-based solutions including disinfectants that are proven to fight Coronavirus.
The design of the bottles ensures that users do not need to touch or wipe surfaces while using the right solution, which is hugely beneficial during this period. Often, a spray-and-wipe technique will simply move bacteria from one surface to another.
Using the electrostatic sprayers enables a quick and effective chemical application. As fully-charged droplets hit the surface they create an even spread. Particles hold their cationic charge for approximately two to three seconds, preventing drips. This allows the solution to cover hidden and shadowed areas and enter the air conditioning and ventilation systems. It also enables Chequers and Renovo teams to cover a large area in a short amount of time. The sprayers have been designed to meet dwell times for solutions so that they can work to their full capabilities.
All disinfection cleans have been completed by Renovo trained teams within one day and at no extra cost to the client. Despite the noted shortage of PPE equipment in the UK, the team has also been able to provide One Housing with the supplies on numerous occasions. Through its partnership approach and commitment to innovation, Chequers and Renovo is providing a safer and healthier environment for One Housing residents.
We can support your back to work plans
We have launched a suite of enhanced hygiene and risk mitigation solutions designed to support you in meeting Covid-secure standards in your premises.
 Explore the full range here.